About us.
The Apart6580 and our holiday apartments in St. Anton
In your holidays at the apartments of Apart6580 you can expect personal service and a cordial atmosphere.
We, host Christoph Stemberger and team, have a passion for hospitality and you can feel this throughout the apartment hotel: From the open design to our feel-good offers with bread roll service and spa area to sharing our insider knowledge on tips and must-do experiences – our holiday apartments offer you space and freedom far away from everyday life.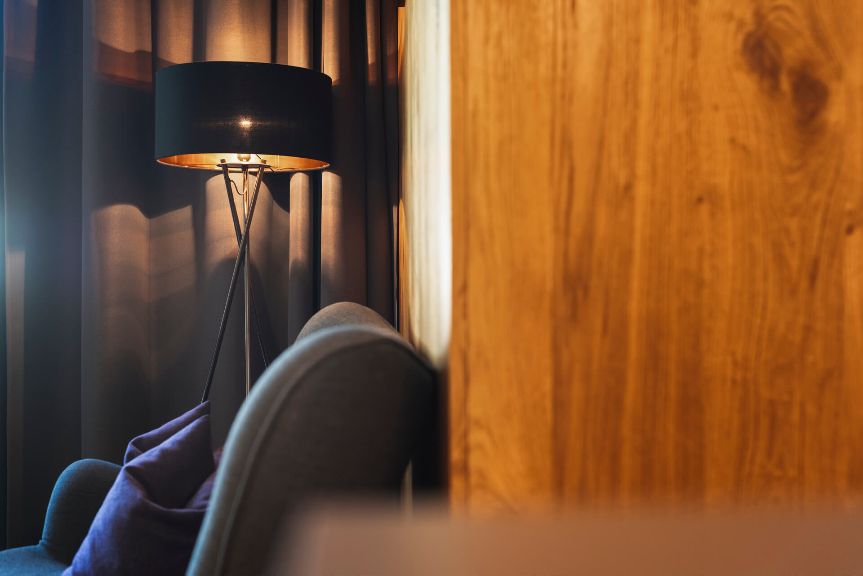 Whether it's a short break, a weekend trip or a longer stay in Tirol:
Our exclusive holiday apartments in St. Anton are most suitable for those who seek privacy and at the same time value personal service, comfort, and genuine Tirolean hospitality. Located in proximity to the pedestrian zone of St. Anton, the Apart6580 is the ideal base for both relaxing moments and a huge variety of leisure pursuits. Our apartment hotel at the Arlberg is a wonderful holiday retreat for relaxation seekers, sports enthusiasts, design aficionados and individualists.
Holidays in a homely atmosphere: At Apart6580 "modern" meets "old"
It's hard to miss: In our apartment hotel at the Arlberg, we combine open, clear design with inviting homeliness and many a quaint surprise. Already our name reflects this concept: The name connects the new apartments (Apart) with the well-known postcode of St. Anton (6580).
In our holiday apartments in the middle of the Tirolean Alps, modern design standards meet old furnishings full of tradition. The incorporated wooden elements, which repeatedly break up the large glass fronts and exposed concrete surfaces, create an exciting contrast as well as a homely warmth throughout the Apart6580. An amazingly comfortable and cozy atmosphere awaits you at our apartments in St. Anton right from the moment you arrive.
Our passion for the Apart6580 and our heartfelt wish to make you feel good during your holidays in St. Anton are also noticeable in thoughtful and refined details. For example, the straight-line wooden facade of our apartment hotel is set off in a special way by design elements such as grey lawn carpets on the balconies. In the interior, small and distinctive accents provide cosiness and sometimes elicit a smile – such as the tables in the lobby of the Apart6580 which have been made from old shutters.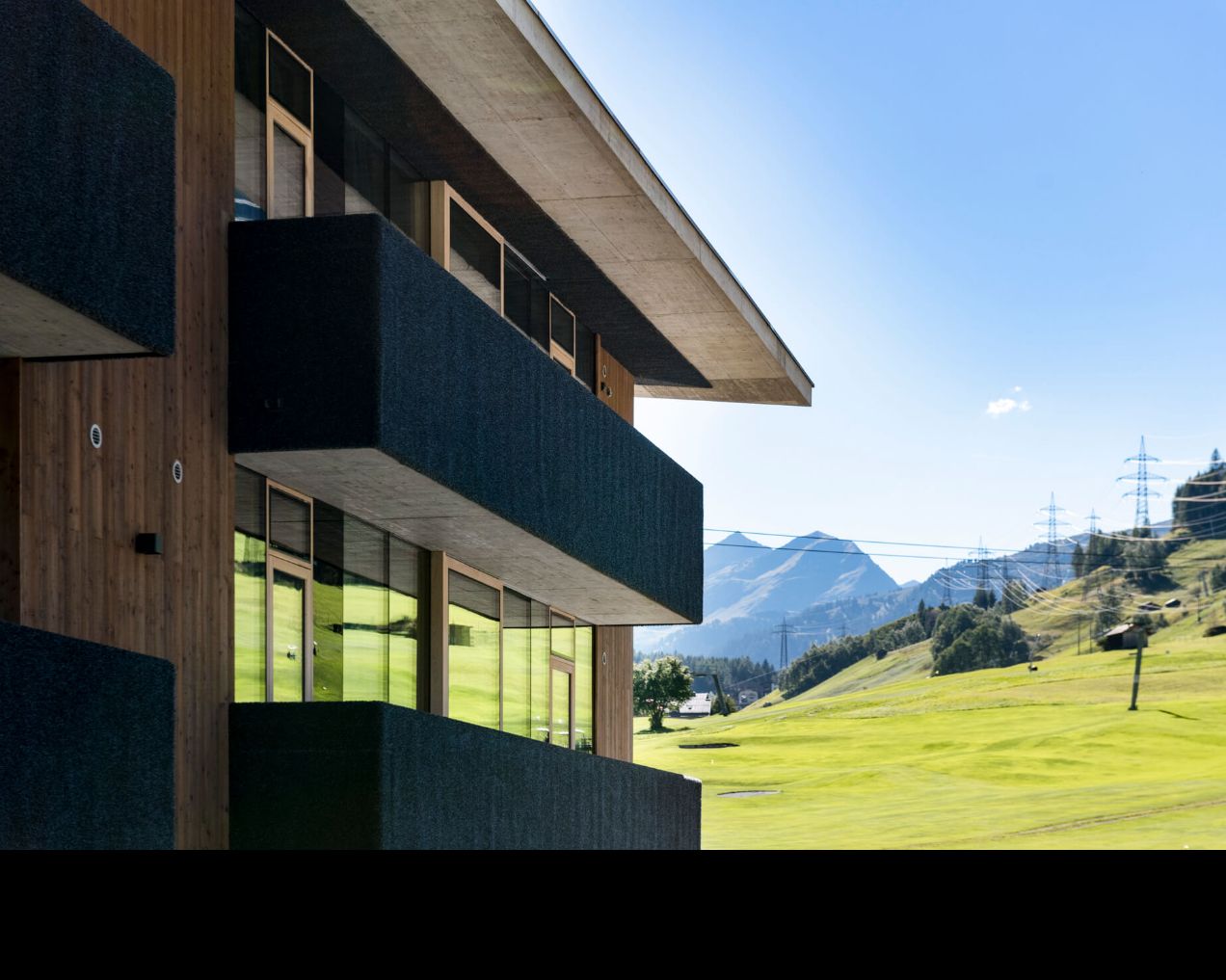 The Arlberg nature is a permanent guest in our apartments
Instead of exuberant decoration and interior design, we offer freedom and sweeping views at the Apart6580 in Tirol. Freedom and space for body, mind and soul as well as gorgeous vistas of the impressive alpine world surrounding St. Anton am Arlberg. From the balconies or from the large, exclusive sun terrace, you will discover new facets of the Verwall mountains and Lechtal Alps on every day of your holidays. We feel the same way. We can't get enough of the rugged peaks and gentle meadows, which are visible almost from everywhere through the floor-to-ceiling windows of the Apart6580. No matter which season you choose to spend your holidays with us, the Arlberg nature is always present in our apartments in St. Anton!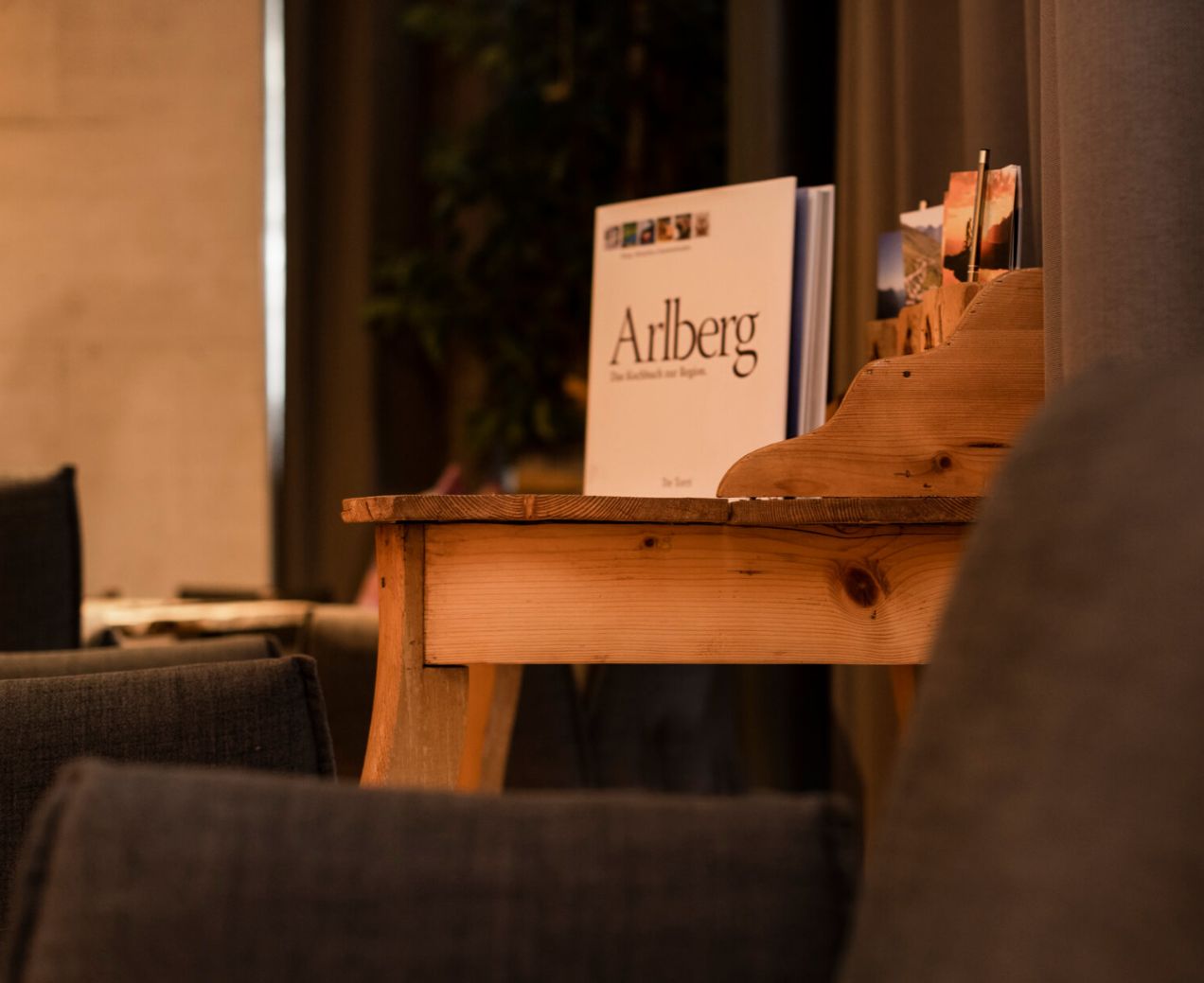 We are your personal St. Anton experts
We, the crew behind Apart6580, are a committed and responsible team who look after your well-being during your holidays in St. Anton am Arlberg. This is exactly why we are always available at the apartment hotel. If you have any questions or requests, we are happy to assist you - around the clock, seven days a week. We are your personal St. Anton experts!
At the Apart6580 we won't share the same old holiday tips as any travel guide. Family holidays, romantic moments for two, or taking time out with your best friends: Our team will be pleased to help with tour tips and share their insider knowledge for exploring the region.
Are you looking for the most beautiful panoramic view of the Arlberg ...
... , the best Kaiserschmarrn (a sweet, fluffy shredded pancake served with plum or apple compote) in the region or the most adventurous leisure activity?
We know where to find the best spots! And of course, we will gladly make reservations for you at your favourite restaurant, organize your excursions into the fascinating mountain world around St. Anton or help you choose the most suitable ski course. At Apart6580, nothing is easier than enjoying your holidays at the Arlberg to the full.
Enquire your appartement now and enjoy your holidays in St. Anton!